The Best Neighborhoods for Families Moving to New York
 Upper West Side
Known for its tree-lined streets and proximity to Central Park. It's home to excellent public and private schools. Upper West Side ranks high in terms of safety. It's no wonder why many families choose to settle here.
Central Park, one of the world's most iconic urban green spaces, is practically the Upper West Side's backyard. Families residing here enjoy effortless access to it. It's an ideal place for picnics, leisurely walks, and countless recreational activities.
The Upper West Side has many exceptional public and private schools. The Collegiate School is renowned for its rigorous academic programs, and the Beacon School is known for its innovative approach.
The American Museum of Natural History, the Children's Museum of Manhattan, and the Lincoln Center for the Performing Arts are all within reach. There's no shortage of kid-friendly restaurants, making dining out a delightful family affair.
Park Slope, Brooklyn
It is another fantastic option for families. This neighborhood has beautiful brownstone-lined streets and is famous for its family-oriented atmosphere. There is a spacious green area for active recreation and picnics. Easy access to multiple subway lines ensures that you can navigate the city with ease.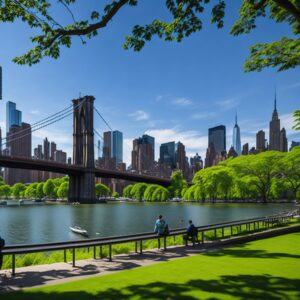 Its tree-lined streets are graced with beautiful brownstone townhouses, creating a scenic and inviting ambiance. Families find themselves living in elegant homes that often feature stoops and gardens.
One of Park Slope's main attractions is Prospect Park, designed by the same landscape architects who designed Central Park. Families can enjoy picnics, sports, and leisurely strolls while children can explore playgrounds, splash pads, and even a zoo. 
The neighborhood has an array of top-notch public and private schools. P.S. 321, known for its academic excellence and vibrant community, is a popular choice. 
Residents often come together for block parties, farmers' markets, and neighborhood festivals, fostering a warm and welcoming atmosphere. The neighborhood is also a cultural hub, with the Brooklyn Museum, Brooklyn Botanic Garden, and the Brooklyn Academy of Music (BAM) nearby, ensuring that families have access to enriching cultural experiences.
Forest Hills, Queens
For families seeking a quieter suburban feel while still being within reach of Manhattan, Forest Hills in Queens is a great choice. It offers excellent public and private schools. The area is known for its spacious single-family homes and lush greenery.
The neighborhood is characterized by tree-lined streets and a variety of architectural styles, including Tudor, Colonial, and Mediterranean. 
Forest Hills offers access to some of Queens' top-rated public and private schools. Forest Hills High School and the Russell Sage Junior High School are notable examples.
It has a strong sense of community, with local organizations and events that bring residents together. The neighborhood's safety record is commendable. It's a place where neighbors look out for one another, and children can play safely in local parks and playgrounds.
The neighborhood's proximity to Forest Park ensures that families have ample opportunities for outdoor activities, including hiking, picnicking, and sports. 
It offers a diverse array of dining options, from international cuisines to family-friendly restaurants. Forest Hills Stadium hosts live performances and events, providing entertainment options for the whole family.
Forest Hills offers convenient transportation options for those who work in Manhattan or other parts of New York City. The Long Island Rail Road and multiple subway lines provide easy access to the city's core.
Riverdale, The Bronx
With its low crime rates and top-rated schools like Riverdale Country School and Fieldston School, it's an ideal place to raise children. The neighborhood's proximity to Van Cortlandt Park provides ample opportunities for outdoor adventures and family outings.
Van Cortlandt Park offers hiking trails, sports fields, and a golf course, providing abundant opportunities for outdoor activities and family outings. 
Riverdale has a diverse range of housing options, from single-family homes to co-op and condominium complexes. Its architecture is characterized by a mix of pre-war charm and modern convenience, allowing families to choose the style that suits their preferences.
Local organizations and events bring residents together, fostering connections and friendships. The Riverdale Arts Center and Wave Hill, a public garden and cultural center, offer cultural enrichment for families interested in the arts and nature.
The Metro-North Hudson Line provides a direct and efficient commute to Manhattan's Grand Central Terminal, making it accessible for those who work in the city.
Astoria, Queens
It is a diverse and welcoming neighborhood that appeals to families. It's known for its excellent public schools and access to cultural institutions like the Museum of the Moving Image. The presence of Astoria Park, with its playgrounds and swimming pool, ensures plenty of family fun during the summer months.
This neighborhood is a vibrant mosaic of cultures. Families can connect with neighbors from all over the world, enriching their lives with diverse perspectives and experiences.
Its proximity to Manhattan allows for easy access to world-class museums, theaters, and galleries, ensuring that families have access to enriching cultural experiences.
Astoria has a selection of excellent public schools, such as P.S. 122 and P.S. 70. There are private school options for families seeking alternative educational paths.
The neighborhood's diverse culinary scene reflects its multicultural fabric, offering a vast array of international cuisines. 
The subway lines and bus routes make it easy to navigate not only within the neighborhood but also to other parts of New York City. 
Battery Park City
It has spacious apartments, proximity to excellent schools like P.S. 89 and Stuyvesant High School, and easy access to parks and playgrounds. The Hudson River Esplanade provides a scenic backdrop for family walks and bike rides.
Battery Park City's most defining feature is its waterfront location. Residents are treated to breathtaking views of the Hudson River, the Statue of Liberty, and New Jersey's skyline. The neighborhood's promenade along the river provides a tranquil escape for leisurely strolls, jogging, and picnics,.
It has an abundance of family-centric amenities, including playgrounds, parks, and green spaces. The Esplanade Playground, Nelson A. Rockefeller Park, and Teardrop Park are just a few of the family-friendly spots where children can play and parents can relax.
The Museum of Jewish Heritage, Skyscraper Museum, and the National Museum of the American Indian offer educational and cultural experiences right at your doorstep. The nearby Brookfield Place provides dining, shopping, and entertainment options for families.
Plenty of subway lines and bus routes make commuting easier for those who work or study in the city.
Bay Ridge, Brooklyn
Bay Ridge is a diverse and family-friendly neighborhood in Brooklyn. It's known for its great schools, including Fort Hamilton High School and P.S. 102, as well as its strong sense of community. Families can enjoy the local parks, waterfront promenade, and a wide array of dining options.
The neighborhood is known for its tree-lined streets and an eclectic mix of housing options, including well-preserved brownstones, elegant pre-war apartment buildings, and spacious single-family homes. 
Bay Ridge's waterfront location provides residents with stunning panoramic views of New York Harbor, the Verrazano Narrows Bridge and the Statue of Liberty.
Neighbors often come together for block parties, street fairs, and local events, fostering a warm and welcoming atmosphere. It's a place where families can easily connect with one another and create lasting friendships.
Shore Road Park, with its bike paths, playgrounds, and sports facilities, is a popular spot for families looking to enjoy the outdoors. Owl's Head Park, with its stunning views and peaceful ambiance, is another local gem.
Multiple subway lines and bus routes make commuting to work or exploring the city a convenient experience for residents.